Gu Xiong: Migrations, an exhibition of 45 years of Gu's work, was organized as part of Canada's 150th anniversary. The exhibition was scheduled to run for two months in the summer of 2017, at the Galaxy Museum of Contemporary Art in Chongqing, China—Gu's home town. The artwork filled 10,000 square feet of exhibition space across two floors. After a month's preparation (with the help of over a hundred volunteers and the gallery staff), however, the it was shut down before it could open. It was taken down over the following two days, during which time the gallery's doors remained open, allowing visitors to watch the work slowly disappear.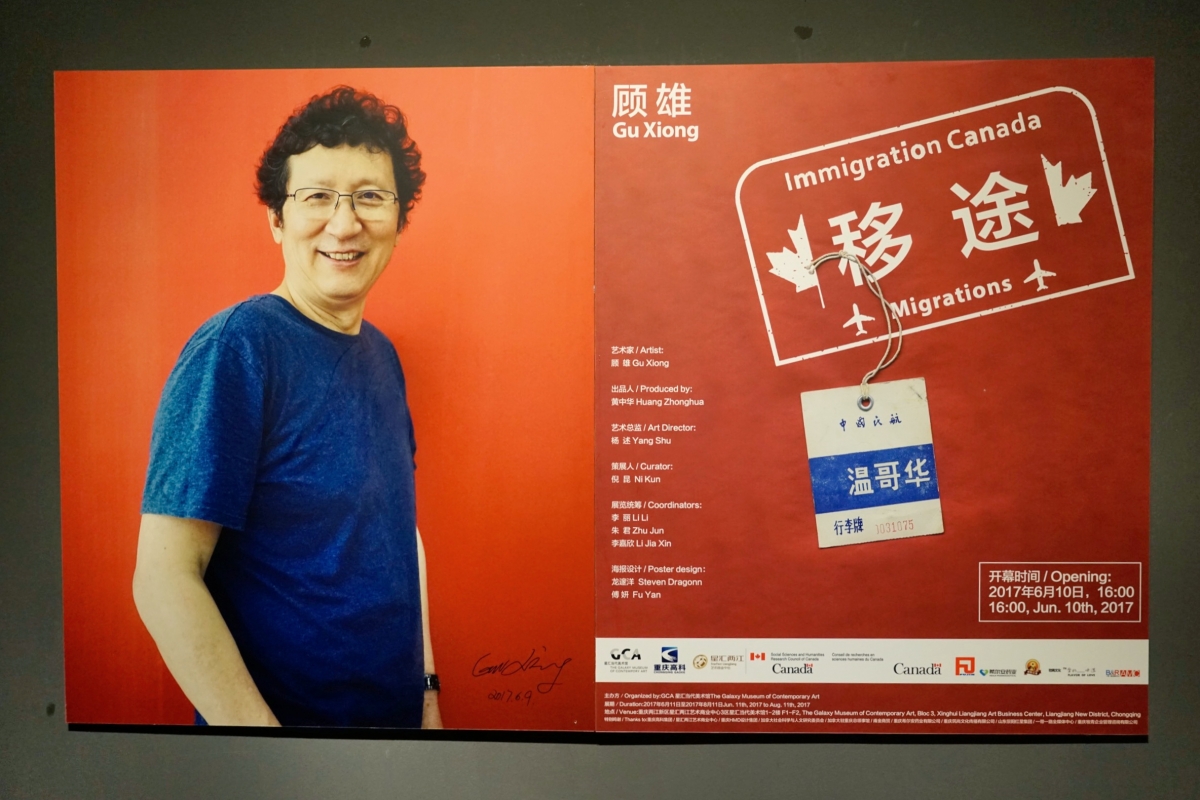 On This Page
Writing
Printed copies of the exhibition catalogue were seized, but the catalogue is available digitally (PDF, 11.7MB).
Some writing from the catalogue is also available online:
Artwork
Yellow Cargo
"Yellow Cargo" is for the people of Chongqing. Chongqing is my hometown. It creates part of me. Since my relocation in Vancouver, it's been 19 years since I have travelled back and forth between the two cities. I have witnessed the changes happened to the city over two decades. As Chongqing strives to rise as an international metropolis, I strive to build up a new cultural identity overseas. The struggles we went through pull me even closer to this city.
"Yellow Cargo" is constructed out of 1,500 export boxes, with stickers of local Chongqing companies. A single channel projection on the back of the "ship" shows the confluence of Yangtze and Jialing rivers. The Yangtze River eventually merges into Pacific Ocean, carrying the made-in-Chongqing merchandize to the world.
"Yellow Cargo" was previously exhibited in Machala, Ecuador, in 2016.
Illuminated Niagara Falls
This installation consists of 4000 photos of foreign migrant workers, five souvenir bottles of "illuminated" water from Niagara Falls, and four fruit baskets from Ontario farms.
Niagara Falls is a Canadian icon, yet few realize that tens of thousands of foreign farm workers labour in the region behind the Niagara Falls. Their presence goes back to the 1960s, but their contributions to the country are often overlooked. The hardworking migrant workers remain unknown and anonymous; yet it is them who bring color and illumination to our Niagara Falls, not the spotlights that are thrown on at night, nor the colored water in the souvenir shops.
After its removal from Gu Xiong: Migrations, "Illuminated Niagara Falls" was installed in Every. Now. Then. at the Art Gallery of Ontario.
Invisible in the Light
The tomato first came to Gu's attention in the hands of a Mexican migrant worker. The worker was staring intently at the tomato, turning it this way and that. Then he crushed it in his hand.
The agricultural labour is provided by migrant workers from across the world, but the tomato packaging just says "product of Canada." For the worker, to crush these tomatoes is to transform that lonely existence into something acknowledged by the body of the tomato—the silence contained in the perfect forms let out in an explosion of pent-up anger, frustration and melancholy.
The crushing of the tomatoes symbolizes freedom from the silence, isolation and barely endured existence to something solemn and stirringly beautiful. Their remains assert their presence—the smell, the wetness, and the splattering.
A Bone House
There was a bone house at Harling Point in Victoria, Canada in 1903, where the remains of deceased Chinese immigrants were cleaned and prepared for burial. After being buried for seven years, the remains of early Chinese immigrants were re-excavated, cleaned and dried, wrapped in a white cloth and shipped back to their hometown in China for burial.
This tradition was practiced by Chinese immigrants in Canada until 1937, when Sino-Japanese war sparked in China. Following the closure of this bone house, around 900 stored remains were buried at a cemetery, which replaced the bone house. Their tombstones face towards the Pacific, their homeland on the other end of the ocean.
"A Bone House" was previously exhibited at the Hubei Museum of Art, Wuhan, China.
Intertwined Rivers
"Intertwined Rivers" was previously exhibited as Red River at the Winnipeg Art Gallery. The artwork includes hundreds of paper boats, a four channel video installation, a series of photographs, and a large painting, all of which represent the idea of converging rivers as a metaphor for globalization.
I am who I am
I Am Who I Am tells the history of Chinese Canadian immigrants, their hard work, and their effort to build a social identity in a different cultural background. From the time of gold rush to the construction of railways, Chinese immigrants have spread out across Canada. These photos expose the hardship Chinese immigrants endured, their persistence, and their beliefs. Today, every Chinese immigrant or immigrant descendent, while adapting to a new social environment, is also reflecting upon the culture and self in between the clashes of two cultures. In the process, new cultural identity and space are created.
Campfire
"Campfire" is a video installation about culture shock and the ideas of home and belonging. When it was made, home had just changed from China to Canada for Gu and his family. 5 years after moving they had their first experience camping in Canada. This was one of Gu's first moments of leisure in Canada. Relaxing by the warmth of the fire and listening to the crackling log, he reflected on common thoughts and issues that he dealt with after moving to Canada. Those thoughts are illustrated in this video.
Pins
Sharp pins represent experiences moments of suffering which are challenging to express in words. In Gu Xiong's own words: "'pins' represent all sorts of embarrassment, reluctance, unfairness, or even helplessness immigrants could experience living in Canada. These things make my heart ache. They prick on my heart like pins, yet not to the extent that my heart bleeds; as time passes, they appear even less important. However, these pains keep reminding me that I could not draw back out of fear; on the contrary, I have to advance against hardship."
"Pins" was first exhibited at R Space in Vancouver.
Four Videos on Four Immigrant Families
Gu Xiong and Ge Ni during an interview briefly talk about their personal experience of immigration. Gu moved to Canada in 1989 and his wife, Ge, and their daughter, Yu joined Gu later in early 1990s. During this interview they explain how they dealt with cultural shock and build up their new identity and lives.
A couple sharing their story of immigration from east to west. Li Wenyue and Zheng Yuzhen moved to Canada from China in 1970s. The couple in an interview describe their story of finding themselves a new place to call home, Canada.
A short documentary narrated by Dr. Ying Ying Chen, an archaeologist, who is also an immigrant from China. This documentary unveils the story of migration of Chinese immigrants to North British Columbia during the gold rush. Dr. Chen explains the origin of China Town in Barkerville, BC.
An interview about a man in China explaining his experience after moving from a small town to a mega city in with population of over 30 million people. Ling Jing Huo talks about his love for books and how he started a bookstore as a small business where his primary goal is to promote art and reading culture.
Shock Culture
This piece was performed with Henry Tsang in 1992 at Western Front in Vancouver. It deals with the early stages of Gu's culture shock, his experience being placed between two cultures, having to determine where he belongs.
A Girl from China
In "A Girl from China," video, music, and storytelling unravel the emotional story of three generations. From the Cultural Revolution in China, to life as immigrants in Canada, their past sufferings, present hardships and triumphs are retold through the eyes of Gu Yu, a girl who doesn't want to be a copy or a reproduction, but the original.
"A Girl from China" was performed at Western Front in 1997.
Home
Enclosures
In February 1989 Gu participated in the China Avant-Garde exhibition in Beijing at the China National Museum of Fine Arts. The first Chinese contemporary art exhibition in China, it featured around 250 artists. Gu's contribution was "Enclosures" a performance and installation about the importance not only of physical liberty, but of psychological freedom as well.
Crushed Cans
Gu Xiong's Crushed Coca Cola Cans embodies the contrast of his Chinese heritage and the cultural transformation he experienced after moving to Canada, with the universally recognizable Cola cans showing both English and Chinese text.
"Crushed red Coca-Cola cans have made a deep impression on me. A lifeless object, in the process of being destroyed, finds a new life. No two crushed cans are the same, each one is unique. My past was crushed by realities beyond my control, but my new life was born from this devastation. Common objects made alike come to life when they are killed."
– Gu Xiong
Paintings
Removing the Exhibition